Donate
Through Our Website   •   Via The United Way of Greater Philadelphia and Southern NJ (Donor Number #16403)   •   Or help us by shopping at Amazon.com
Tip Sheets and Booklets
Download, print and share these tip sheets as a resource.
Grief & Loss Tip Sheets
Understanding Young Adult Grief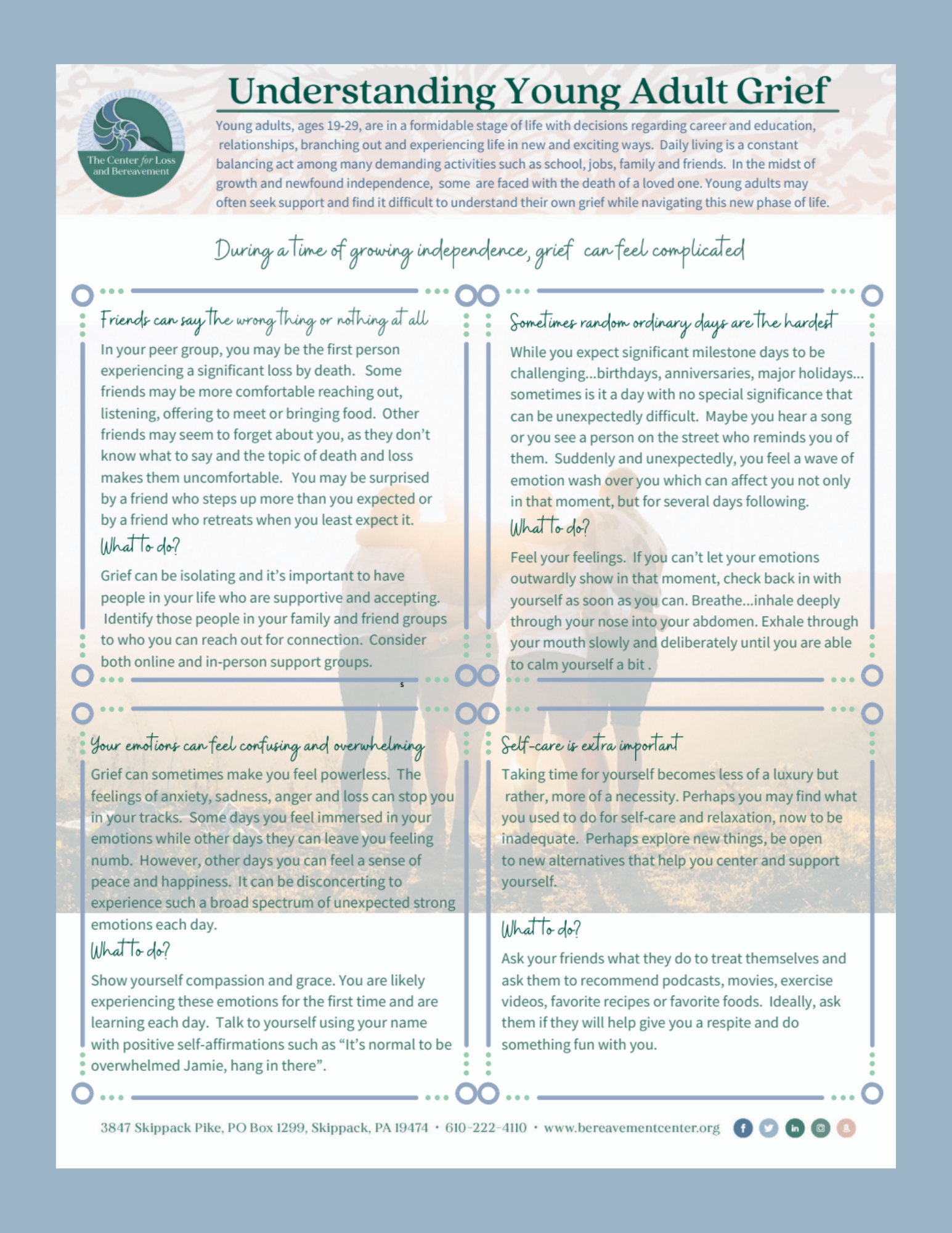 Young adults, ages 19-29, are in a formidable stage of life with decisions regarding career and education, relationships, branching out and experiencing life in new and exciting ways. Daily living is a constant balancing act among many demanding activities such as school, jobs, family and friends. In the midst of growth and newfound independence, some are faced with the death of a loved one. Young adults may often seek support and find it difficult to understand their own grief while navigating this new phase of life.
Grief and the Mind-Body Connection

Grief is an all-encompassing physical, social, psychological, biological, and spiritual experience
It is important to be aware of the connection between our mind and body as we process grief. A grieving heart can feel heavy and often cause physical symptoms that can be mistaken for illness. A racing mind can lead to sleepless nights aiding in the physical exhaustion that grief often presents. Educating ourselves and others in this mind-body connection is important in supporting our overall wellness.
Supporting Others with Chronic Illness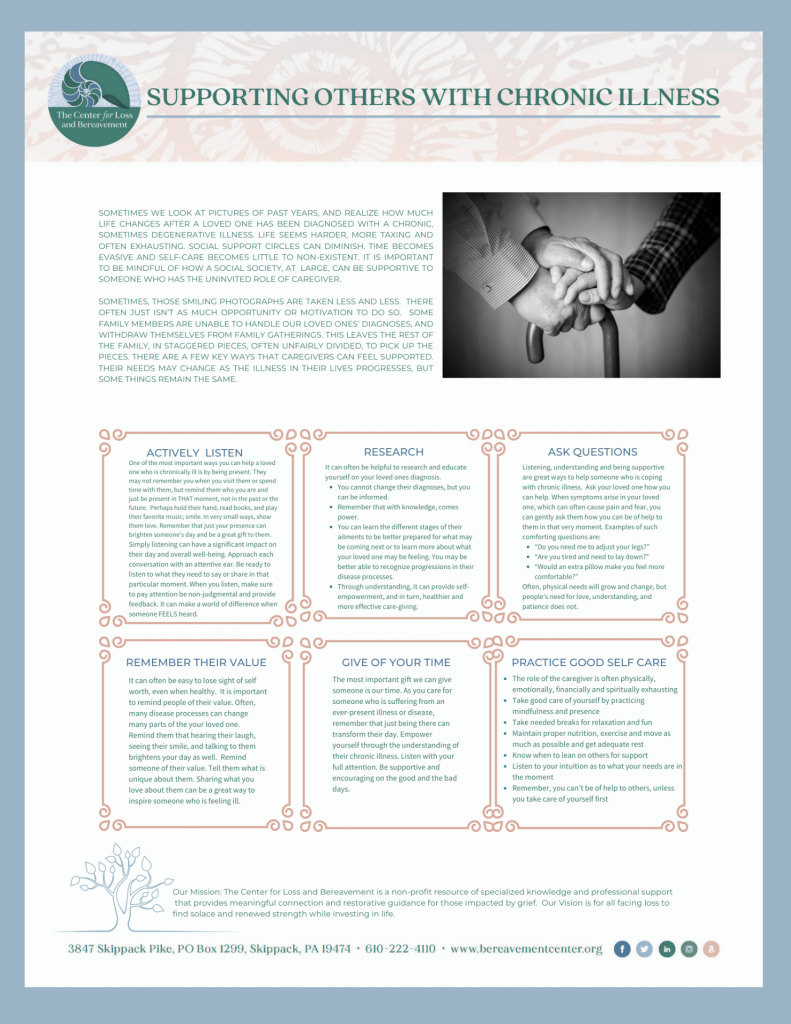 It is important to be mindful of how a social society, at large, can be supportive to someone who has the uninvited role of caregiver.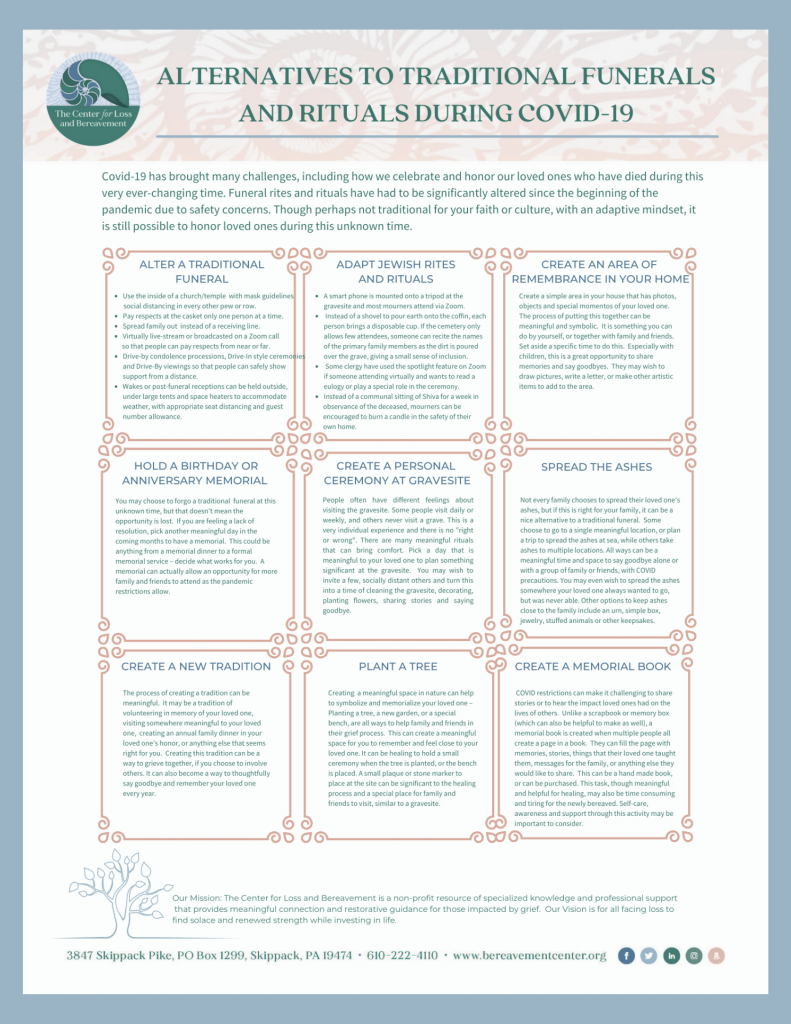 Alternatives to Traditional Funeral Rituals During COVID-19  
Covid-19 has brought many challenges, including how we celebrate and honor our loved ones who have died during this very ever-changing time. Funeral rites and rituals have had to be significantly altered since the beginning of the pandemic due to safety concerns. Though perhaps not traditional for your faith or culture, with an adaptive mindset, it is still possible to honor loved ones during this unknown time.
---
Children's Grief Booklets
GriefTalk is an initiative of the NAGC aimed at encouraging and supporting honest conversations around the topics of death and grief.
---
Grief through the Holidays
Activity Ideas for the Holiday           Helping Your Grieving Child Through a Holiday
Planning for a Holiday after a Loss           Ten Tips for the Holidays
---