Donate
Through Our Website   •   Via The United Way of Greater Philadelphia and Southern NJ (Donor Number #16403)   •   Or help us by shopping at Amazon.com

Thank you to those who have contributed to our campaign so far:
20th Anniversary Campaign Donors

---
Day 1
The Center for Loss and Bereavement is celebrating 20 years of impact! In opening this first of 20 days in reflection, we first want to recognize YOU, our community. It's hard to imagine where The Center would be without your special place in our story. From our founders to our staff, board members, and volunteers – to our clients, community partners, and supporters – each person that touches our mission reminds us every day our potential to grow through grief is strengthened when we are not alone.
Thank you for joining us in paying tribute to our 20 years. We hope to see you each day as we share hope and appreciation for our collective impact through this mission.
Please watch the video below:
---
Day 2
The founders of The Center for Loss and Bereavement, Shirley Elrod, and Christine Smith came together 20 years ago with a vision to provide a place of compassion, support, and connection to those impacted by grief. Their mission has been brought to light these past 20 years, and we hope you'll join us for many years to come as we continue building their legacy in this special place of solace and refuge for grieving individuals and families. 
---
Day 3
"The beginning is the most important part of the work" – Plato 
Come along with us as we look through 20 years of building, learning and growing.
We invite you to join us as we continue to grow for the next 20 years! 
---
Day 4
Join us today as The Center for Loss and Bereavement pays tribute to our Alumni Board Member Hall of Fame!  Get to know the people who helped build The Center for the first the past 20 years. Please also visit bereavementcenter.org/board-of-directors to learn more about these special leadership roles.  We could not be more appreciative of the dedication from each of these unique individuals, whose hearts and minds have helped to solidify the vision that started 20 years ago.   
---
Day 5
Help Spread Hope! Through this week, we'll continue to highlight the power of HOPE that is found at The Center for Loss and Bereavement. In honor of this 20th anniversary, we are asking you to Help Spread Hope – and make more services possible to more people in need through these next 20 years.  Please consider making a donation or finding 20 ways to help!!
---
Day 6
On Day 6 we highlight a testimonial from one of our clients. People from all over facing various stages of grief come to us for support. Megan was brave enough to share her story. Thank you to Megan. Please read her story as she inspires us all with her strength.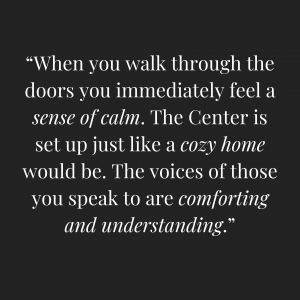 ---
Day 7
Nello's Corner
We welcome you to take a Look Around the Corner… 
Very few of our Center's supporters have the opportunity to meet a grieving child of our children's bereavement program or see what happens within the walls of our Nello's Corner building. For the last 17 years, this unique space has held the tears, laughter and hope of hundreds of families who are looking for connection and support. Today we are opening the door to you, providing a glimpse into this vibrant program through the eyes and words of a few of the children, teens, caring adults, volunteers and staff of Nello's Corner. Let them share firsthand what is so special to them as you take a Look Around the Corner. 
Please watch this amazing video highlighting our Nello's Corner program put together a few years ago by our friends at Seven Knots Film and Media.
---
Day 8
We are incredibly proud of having such exceptional and passionate people driving our mission. Regardless of when they joined the team, their presence and gifts have made a lasting impact on the people we serve. We are honored to share in this important work with such amazing people. Please take a moment to meet our team
---
Day 9
"The heart of a volunteer is not measured in size, but by the depth of the commitment to make a difference in the lives of others."
Over the past 20 years, the enthusiasm and commitment that our network of volunteers have displayed and provided to our programs are simply immeasurable. We are so grateful for the ongoing support and involvement that they continually provide to our grieving families. Here is a glimpse into the heart and compassion of our valued volunteers.
---
Day 10
Camp Millie offers the unique opportunity to connect with peers who are coping with grief. This particular bond transforms the usual summer camp experience to one which offers hope and growth in a supportive, caring environment. New friends, lasting memories, and supportive ideas can be found at Camp Millie!
Thanks to our Friends at Muddy Snow Productions for capturing the highlights of Camp Millie in 2019!
---
Day 11
On Day 11 we hear Kelli's Story. Thank you Kelly for your bravery in sharing the story of your grief journey.
"For me seeing a grief counselor was one more confirmation that my son was gone but I knew I needed help"
---
Day 12
As our arms help to lift up grieving individuals and families who come to our Center for services, they also extend out to the community by way of professional relationships, networking groups, educational trainings, and informational presentations. We value these opportunities of shared knowledge and collaboration so that we can continue to support our community-at-large through an increased network of resources. 
---
Day 13
Grief has taken center stage as death and non-death losses have touched virtually all people living through this moment of time. From the start of this pandemic, our staff recognized the need to responsively and proactively offer our specialized services to restore balance in necessary support. We are prepared to care for the many unique, complex and traumatic features of grief that individuals, families, and organizations in our community may be experiencing now and over time. We know that grief does not end even when a pandemic does, and we are committed to be present as a resource in our community for years to come.  We are grateful for any added support that will add to our capacity.
---
Day 14
While psychological stress and emotional pain have mounted during this pandemic, our systems of support have been limited, creating critical risks for mental health. As social beings, we benefit greatly from having people surrounding us while mourning our losses, in finding meaning through our suffering, and in creating restorative activities to live full lives. Concerns surrounding safety at funerals and memorial services have coupled with reduced comfort in everyday engagements with others, adding stressful, challenging layers to how we experience and process our grief. To meet this need, our Center started an Early Loss – Mixed Grief group this summer. Thanks to the careful planning and facilitation of our Program team, this group quickly filled as it offered understanding and connection. It is now in its second round of sessions for the fall, running alongside our frequently held loss-specific peer groups. Thank you, Adreinne, for sharing your story with us and for being part of this special, time-sensitive peer support group.
---
Day 15
As The Center for Loss and Bereavement has grown from a vision to a strong, integral resource in our community, we have depended on many others to lead our focus and to support our programming. Our board of directors, committee volunteers, and children's group facilitators have come to us from different walks of life and experiences with grief, but they all have one thing in common – mission. Hear what they have to say about giving of their time and talents to be part of this special organization.  If you are interested in getting involved, there is a place for you – please reach out to see how you can help extend our reach in supporting others!
---
Day 16
2 stories of Inspiration: Reanna and Mark
While all people, regardless of time or circumstance, will experience loss through the course of their life, only some will take steps to reach out for support. Making a choice to try therapy can be a difficult call for many to make.  At the Center, we understand this. We approach all clients – and potential clients – with warmth, safety, and understanding. All of our therapists compassionately build safety and trust with each client as they help hold difficult feelings, offer perspective, and encourage resilience in those navigating their way through loss. Thank you Reanna and Mark for sharing your process in making this call through your experience in grief, and for inspiring others to reach out for compassionate, caring help when needed.
---
Day 17
Specialized Knowledge. Professional Support. Meaningful Connection. Restorative Guidance.
Through the past 20 years, our Center's programs have been grounded by these foundational pillars. While we continue to strengthen our existing counseling, peer support, and education services, we have committed ourselves to strategic goals that will increase the inclusivity of our programming. We are grateful to incorporate the talents of artistic professionals with our Center's team in offering healing through more creative and expressive arts. We are building bridges within our neighboring schools in offering our specialized, trauma-informed collaborative care for students, teachers, and families. Most recently, we have joined together with other grief centers in Southeastern Pennsylvania in working with Judi's House/JAG Institute, as part of a national research program looking at childhood bereavement in our region. Through all of these efforts, we continually strive to better understand and respond to traumatic, underserved, and diverse experiences of grief in our area, ensuring that all people can find hope, help, and healing through our mission, regardless of circumstances in life or in loss. Join us in celebrating all that has been made possible by the generosity of others, and consider adding your support to help further these growing efforts.
---
Day 18
Thank you Nancy for sharing your story of love and loss with Lance, and for allowing us to accompany you on your journey with grief, hope, and healing.  We are grateful for your courage and comfort in helping others appreciate the strength you built through your time with us.  Your story is both heartbreaking and inspiring, like so many of the clients we serve.  If you or anyone you know has suffered a difficult loss and would benefit from the warm, active presence of a grief counselor, please reach out as Nancy and many others have.
---
Day 19
What does my donation support?
As a non-profit, we rely on your donations and all of your support makes an IMPACT.
All donations directly offset the cost of our programs, counseling, support groups, and community outreach. A number of grieving people will be able to get support while experiencing the death of a loved one because of you.
Please know we are very grateful and appreciative. Thank you!

---
Day 20
Thank you!!!
We are so grateful that you have followed with us through these last 20 days, helping share in our 20 years of milestones, memories, and meaning.  Thank you for your support and engagement, and in trusting us to take this special mission forward into the lives of others.  However you have come to know us, we hope that the reflections shared through this anniversary have broadened your understanding of who we are and what we do, and of the grief experiences supported in the people who have come to us.  Especially, we hope you have a more committed sense of how your role fits ​within our vision to create a more resilient, connected, and healthy community. We thank you for your continued support and dedication as we uphold our mission and continue our journey through service and hope provided at The Center for Loss and Bereavement.