Donate
Through Our Website   •   Via The United Way of Greater Philadelphia and Southern NJ (Donor Number #16403)   •   Or help us by shopping at Amazon.com
Children's Grief Awareness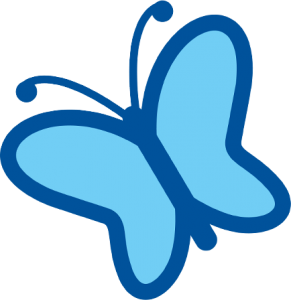 On November 19th the Center for Loss and Bereavement will be recognizing Children's Grief Awareness Day. The day is focused on supporting the children all around us who have experienced the death of a loved one. The day seeks to bring attention to the fact that often support can make all the difference in the life of a grieving child. We at the Center will be wearing blue to show support and help grieving children feel less alone by helping to change the culture surrounding children and grief. We will also have the children who participate in our Nello's Corner program create "HOPE" butterflies. These butterflies are a symbol to help them find HOPE in the midst of their grief.
How can you support for Children Grief Awareness Day?
Wear Blue on November 19th  The easiest way to participate in Children's Grief Awareness Day is to have as many people as possible, children and adult wear blue to show awareness of grieving children.
Spread the word with HOPE the butterfly. Print out HOPE the Butterfly and let people know why you are holding on to HOPE by writing (or drawing) the reason on HOPE. You can spread the message by taking a photo of yourself holding HOPE the butterfly and either show it to your loved ones or upload it to social media with a message in memory of, in honor of, in support of with the hashtag #CGADHOPE #CLB.
Did you Know?
One out of 20 children will experience the death of a parent before they graduate from high school, while one out of every five children will face the death of someone close to them.
Children take much longer to deal with their grief than we expect, and their inner turmoil may have no outward signs.
A grieving child can't just "get over it"-not in any set time period-not by any act of their own will-and that there is no reason that they should just "get over it."
You can find more statistics on children's grief by clicking here.
Other resources to help grieving children