Donate
Through Our Website   •   Via The United Way of Greater Philadelphia and Southern NJ (Donor Number #16403)   •   Or help us by shopping at Amazon.com
Contact  Us
---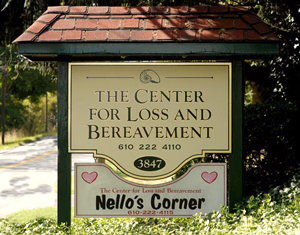 The Center for Loss and Bereavement
3847 Skippack Pike
P.O. Box 1299
Skippack, PA 19474
Phone: 610-222-4110
Fax: 610-222-4116
*Hours of Operation Vary – please see note below*
Know that your needs are important to us.

While our services are being offered virtually through telehealth currently, our service area for counseling and peer support groups primarily includes community residents of Southeastern PA (the Greater Philadelphia area).  Our education and awareness efforts reach far beyond this area, but we look forward to the time when we will be able to meet with our direct service clients in our offices again, and therefore we are limiting our clients' location to regional/local areas at this time.  If you are out of our area but would like support finding resources in your state/region, we can assist you finding contacts through our national networks of grief service providers.
*Our office does not have set hours as our staggered staff work to meet the needs of many people and administrative tasks over the course of each workweek.  Generally our offices are in operation Monday-Friday, and across daytime/evening hours.  Many of our staff members work part time and have messages indicating when they will be able to respond to your specific needs, if it will not be within our usual 1-2 business days.  Thank you for your understanding and patience as we get back to you as soon as possible.*    
Please reach out to local crisis or emergency resources (below) if you require immediate attention or your needs cannot wait. 
CRISIS RESOURCES
Call Local Police Department or *911
Montgomery County Emergency Services (MCES) 610-279-6100
Montgomery County Access Services Crisis Support  855-634-HOPE (4673)
Bucks County Lenape Valley Foundation Crisis Support  800-499-7455
Chester County Valley Creek Crisis Center Support  610-280-3270
Delaware County Crisis Connections Team   855-889-7827
Philadelphia Mental Health Delegate Line  215-685-6440
National Suicide Prevention Lifeline 1-800-273-TALK
---
Do you want to keep up with what is going on at the Center?
Please join our mailing list!
---