Donate
Through Our Website   •   Via The United Way of Greater Philadelphia and Southern NJ (Donor Number #16403)   •   Or help us by shopping at Amazon.com

Thank you to everyone who participated, volunteered, sponsored, and donated to the Fields of Hope event on July 23-24, 2022!
Our second annual Fields of Hope Sunflower was held on July 23 – 24 at the Smith family farmstead in Worcester, where fields of stunning sunflowers were planted to help raise aware awareness and bring hope to those dealing with grief and loss. Hundreds of people visited the fields to pick their own sunflowers to bring home, explore their creativity during a Plein Air art session, or capture memories with family members during photography sessions with professional photographers.
Click here to see our Fields of Hope 2022 Photo Gallery!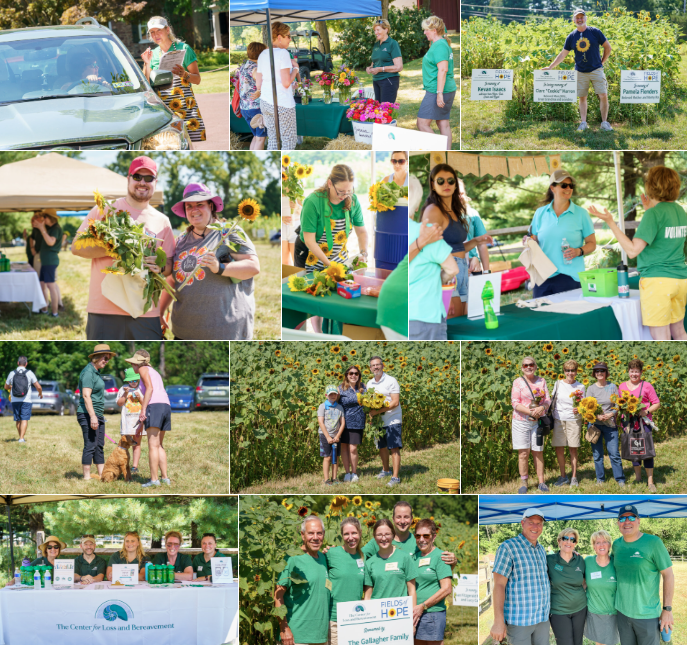 Special thanks to:
Christine Smith & Family for hosting us on their farm and sharing the beautiful sunflower fields with us.
Farmer Ed Evans for putting countless hours into cultivating the land, planting and growing. Without him our event would not be possible.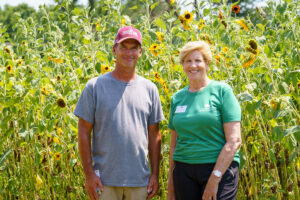 Our event planning committee for their tireless efforts leading up to and throughout the weekend activities.

Event Planning Committee: Jill Gallagher, Beth Hunt, Selaine Keaton, Donna Piergallini, Lauren Rieger, Christine Smith, & Melissa Smith 

Our event volunteers for enthusiastically working at stations and giving our guests the best possible experience. (Many present for the photo below, but all names listed beneath)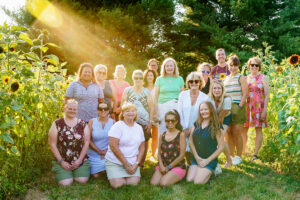 Kristin Amit Norma Blouch, Renee Bickel, Tori Bickel, Beverly Carr, Lisa Chambers, Meg Cinelli, Bonnie Crist, Jonathan Ditzler, Lauren Drakeley, Natalie Dumniak, Robert Dumniak, Faith Eagans, Judith Gallagher, Thomas Gallagher, Pat Gramm, Barbi Griffith, Cathy Grandzol, Chris Hunt, Lauren Hunt, Ryan Hunt, Mason I, Scott Keaton, Trevor Keaton, Dana Kegerreis, Joanne Lepping-Irvine, Emelia Lockwood, Will Lockwood, Jeanne McDonald, Sue McGinnis, Margaret Meyers, Ryan Myers, Suzanne Miller, Daniel Reiger, Joe Rieger, Matt Rieger, Stacie Reis, Nikki Scott, Cathy Sikora, Ashley Smith, Caroline Smith, Christopher Smith, Ellie Smith, Graham Smith, Victoria Woodford
Our sponsors and donors (listed below), and every registrant and participant who enjoyed photography sessions, plein air art, and PYO flowers made this event a tremendous success!
Thank you ALL so very much!
---
Our Sponsors
FIELDS OF HOPE IS PRESENTED BY
OUR SUNFLOWER SPONSOR:

HARVEST SPONSOR:

ROOT SPONSORS: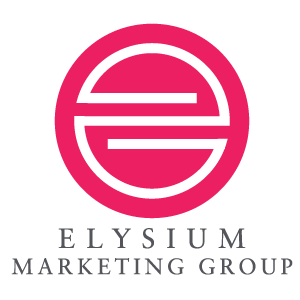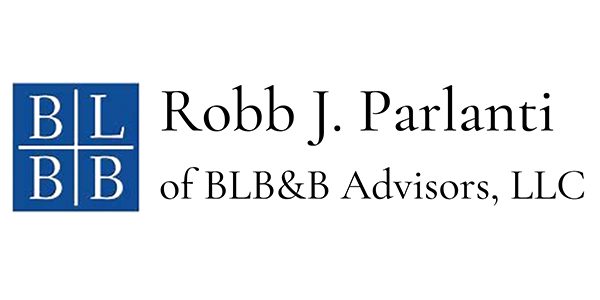 SEED SPONSORS:







PHOTOGRAPHY SPONSORS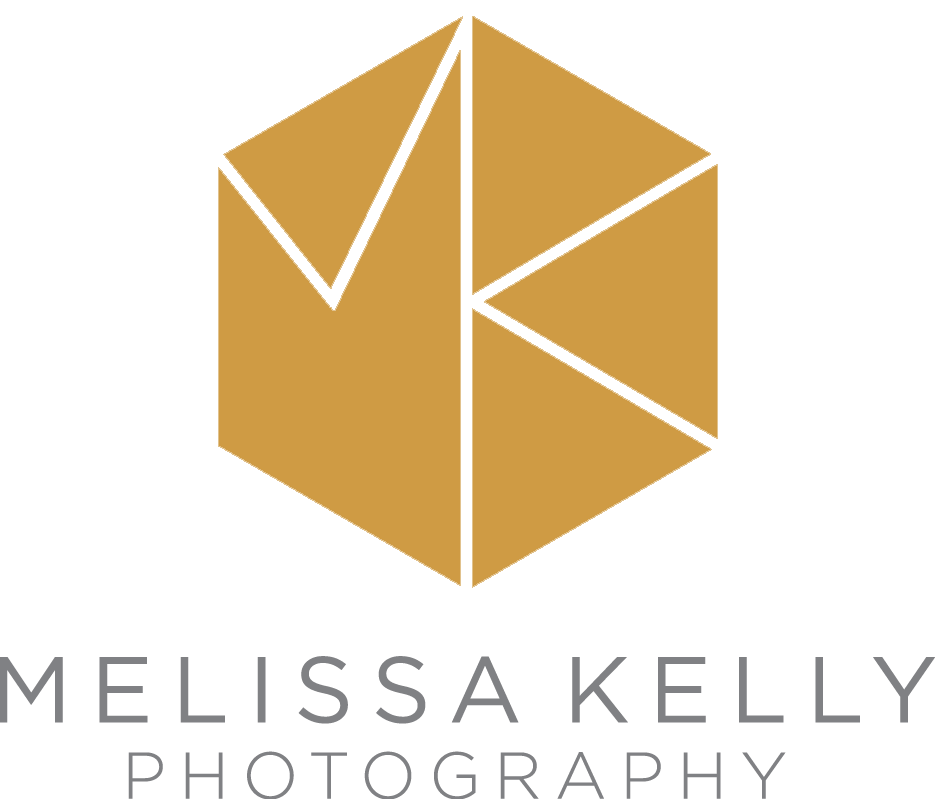 IN-KIND SPONSORS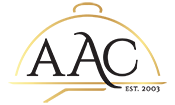 All About Catering Events

Kim Wright, Nothing Bundt Cakes – Collegeville
---
DONORS
Individual Donors
| | | |
| --- | --- | --- |
| Karen Barnshaw | Wendy Bealer | Carol Berardelli |
| Renee Bickel | Tori Bickel | Joan and John Bown |
| Marilyn Burkey | Deborah Caglia | Anthony and Meg Cinelli |
| Michele DePetta | Audrey Ditzler | Yvonne Eglinton |
| Martha Fickett | Jillian Gallagher | Judith and Thomas Gallagher |
| Melissa Hall | Lois Harris | Roger and Nancy Hunt |
| Christopher and Beth Hunt | Joey Irvine | Elaine Johnston |
| Allison Kerlin | Jack & Arlene Kilcoyne | Joanne Kline |
| Chase and Linda Kneeland | Christy Kovelan | Karen Lachmeyer |
| Christina Larkin | Joanne Lepping-Irvine | Jamie Lockwood |
| Melissa Keen | Karen Maglaty | Heather Markus |
| Sadie Markley | Stacey Marie | Jake Marron |
| Brian McCaffrey | Robb Muse | Stacey Novelli |
| Karen O'Toole | Rachael Picozzi | Sarah Picozzi |
| Donna Piergallini | Rita Porreca | Jen Romano |
| Leon Rosen | Melissa Schwenk | Nikki Scott |
| Jennifer Shea | Heather Shoop | Jacqui Smigo |
| Graham Smith | Kendra Stenack | Jacky Todd |
| Melanie Trott | Nancy  Wieman | Sarah Wieman |
Companies and Organizations
The Daywalt Group LLC
DCO Orthodontic Specialists
Deluca Music Co.
Harleysville Bank
Simply Be Well
Valley Force Rug Co
Williams and Co. Jewelers

To stay up to date on upcoming events at at The Center for Loss and Bereavement, follow us on social media