Donate
Through Our Website   •   Via The United Way of Greater Philadelphia and Southern NJ (Donor Number #16403)   •   Or help us by shopping at Amazon.com

WHAT IS THE ADDRESS OF THE FARM?

The Smith Farmstead is located in Worcester Township, Pennsylvania. The address is 1415 Kriebel Mill Road Collegeville, Pennsylvania, 19426

DO YOU HAVE TO PAY FOR PARKING AND WHERE DO I PARK?

Parking is included with your reservation and located adjacent to the sunflower fields. We will have people directing traffic from the main entrance.

HOW DO YOU PICK SUNFLOWERS?

Bring a good pair of clippers or pruners.(the sunflower stalks are thick) and follow these instructions: U-Pick Instructions
WHAT ARE THE PRICES?

Adult (ages 15+): $25 per person includes

8

 stems and parking

 

Child (ages 4-14): $10 per person includes 4 stems  *children under 4 free with an adult 

HOW DO I BUY TICKETS TO VISIT THE SUNFLOWER FIELDS?

You can make an online reservation HERE* (link coming soon!) 

WHAT IS YOUR TICKET REFUND POLICY? 

Our u-pick flowers are outdoors and are rain or shine. All sales and registrations are non-refundable and cannot be changed.

DO YOU ALLOW PHOTOGRAPHY? 

Feel free to take pictures with your phone or personal camera during your reserved U-Pick time. We just ask for no professional photography sessions during the U-Pick events.  We are offering professional photography sessions in the sunflower fields on specific evenings. You can reserve a professional photo session by clicking HERE (link coming soon!) 

WHAT DO I NEED TO BRING?

If possible, bring a good pair of clippers or pruners. The sunflower stalks are thick, and we will only have a minimal number of clippers on-site. You are also welcome to bring a bucket or small wagon to hold your sunflowers as you pick.

HOW DO I DRESS?

We encourage all visitors to wear comfortable shoes and suitable clothing for an outdoor environment for your safety. Also, check the local weather listings to make sure you dress appropriately.

WHAT HAPPENS IF IT RAINS OR THE WEATHER IS BAD? WILL THE FARM STILL BE OPEN?

Yes, our u-pick flowers are outdoors and are rain or shine. However, we will notify all existing reservations if we need to reschedule.

CAN I BRING MY PET OR EMOTIONAL SUPPORT ANIMAL TO THE FARM?

No. We kindly ask that no pets are brought to the farm. However, our therapy dogs will be present at times for some love from our furry friends.

CAN I BRING MY OWN FOOD AND DRINK TO THE FARM?

We limit each reservation to one hour, so we ask that you do not plan on having a picnic at the farm. However, snacks are welcome, and we will have an ice cream cart there on Saturday afternoon to purchase some treats.

WHAT DOES MY RESERVATION INCLUDE?

Each reservation includes a one-hour time slot to enjoy the U-Pick sunflower fields, a designated number of stems in your reservation, and parking

WHAT IF I WANT TO STAY LONGER THAN MY 1-HOUR TIME SLOT?

We ask that you book additional slots if you want to stay more than one hour.

CAN I BRING A STROLLER OR WAGON ONTO THE FARM?

Yes, a small wagon or stroller is permitted. Please keep in mind that you will be pushing these items through sunflower fields. The ground will be uneven and possibly muddy.

IS YOUR FARM WHEELCHAIR OR STROLLER ACCESSIBLE? 

Yes, however, our farm is an outdoor space with uneven ground, including gravel and grass areas. If there has been heavy rain, it can get muddy. We will have an easily accessible sunflower area designated for those in a wheelchair.

CAN I VOLUNTEER?

Absolutely! Please register here or  email Jame jl@bereavementcenter.org

DO YOU HAVE SPONSORSHIP OPPORTUNITIES AVAILABLE?

Yes! If you or your company would like to be a sponsor at this fundraising event to benefit The Center for Loss and Bereavement, please check out our sponsorship opportunities HERE. 

DO YOU HAVE A MAP?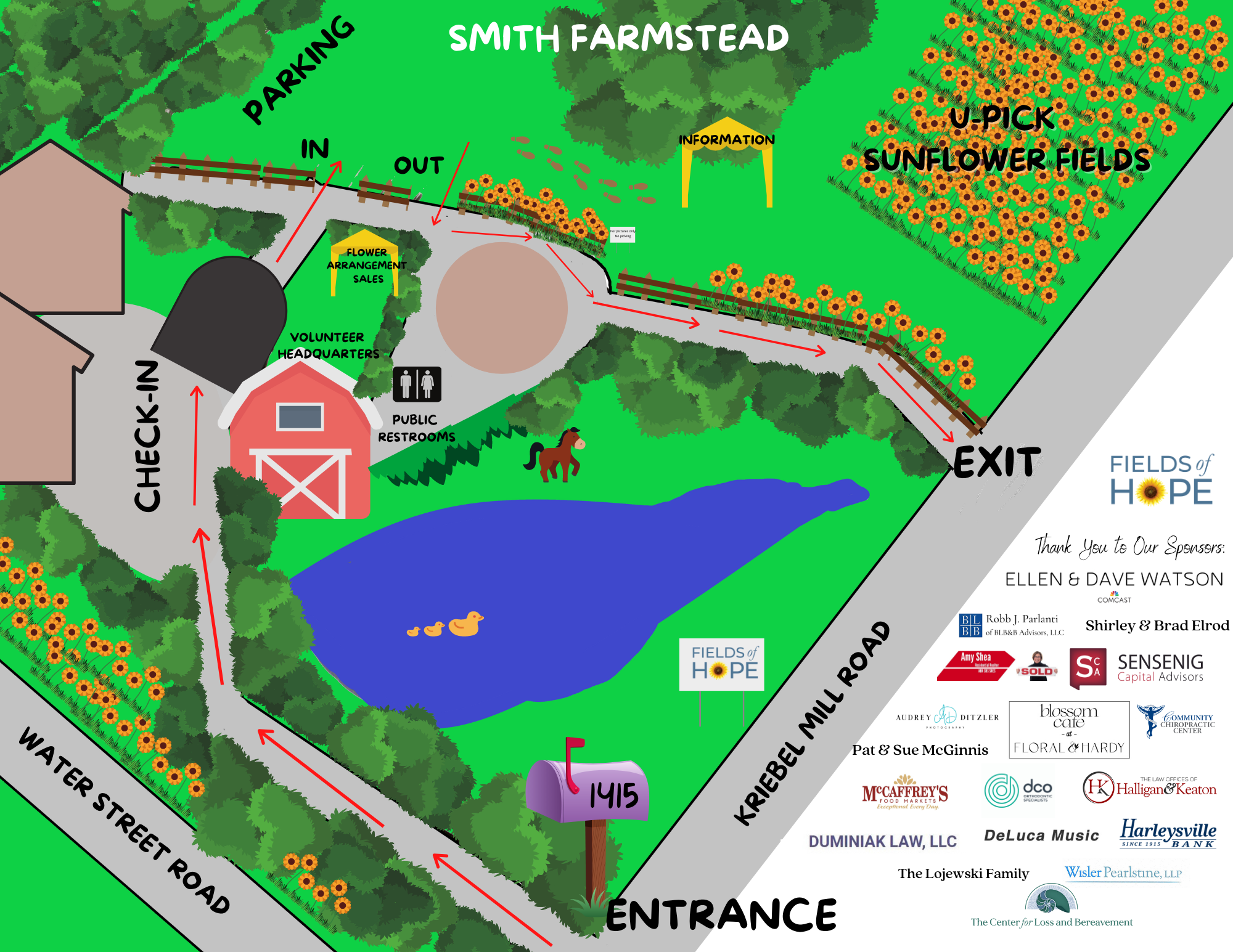 If you have any other questions, please reach out to Jamie at jl@bereavementcenter.org