Donate
Through Our Website   •   Via The United Way of Greater Philadelphia and Southern NJ (Donor Number #16403)   •   Or help us by shopping at Amazon.com
Grief Comes to School
Helpful information for teachers, counselors, administrators and parents to create more grief-sensitive schools
Being impacted by grief can cause an array of emotional and physical challenges and changes that naturally overflows into the school environment. When students and families have support the weight of these challenges can be lessened. We know that connecting and supporting your students is a top priority. As your local grief support, the Center for Loss and Bereavement hopes to partner with you to help meet your students' needs.
Below are links to tangible handouts for students, family and administration from the National Alliance for Children's Grief (NACG). This year they focused their efforts on providing schools with grief support resources. The documents are thorough, useful and insightful.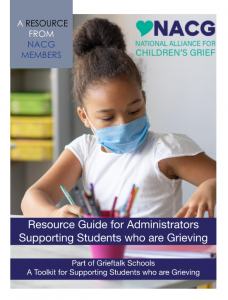 And remember, the Center for Loss and Bereavement is only a call or email away. We are happy to talk to you about ways you can support your students. We offer no-cost group support at the Center, individual counseling for a fee for service, professional trainings and if needed we can provide an on-sight grief group at your school.