Donate
Through Our Website   •   Via The United Way of Greater Philadelphia and Southern NJ (Donor Number #16403)   •   Or help us by shopping at Amazon.com
Our  Staff
Our Center brings together dedicated people who work tirelessly to help fulfill the mission of the Center. Each individual comes from varied experiences in human service and education, and possesses specialized training and interest in Thanatology, which is the foundation of our work.
We are incredibly proud of having such exceptional and passionate people driving our mission, and are dedicated as an organization of value to support them in providing the highest quality of service to those seeking help from the Center.  The Center for Loss and Bereavement is an inspiring place to be, where it is safe – and encouraged – to be vulnerable with dignity, and to invite others to be a source of light and hope in times of darkness.  Our staff are capable of holding the pain of others, without needing or trying to 'fix' someone's journey through the true mess of grief.  Our mission depends on having empathetic, experienced individuals doing such intimate and sensitive work, and we are incredibly grateful for the staff who have joined us over the years.
To contact any staff member, call the main number 610-222-4110 and dial the referred extension or click on the e-mail address links on this page. For a short biographical description, click on any staff member's name.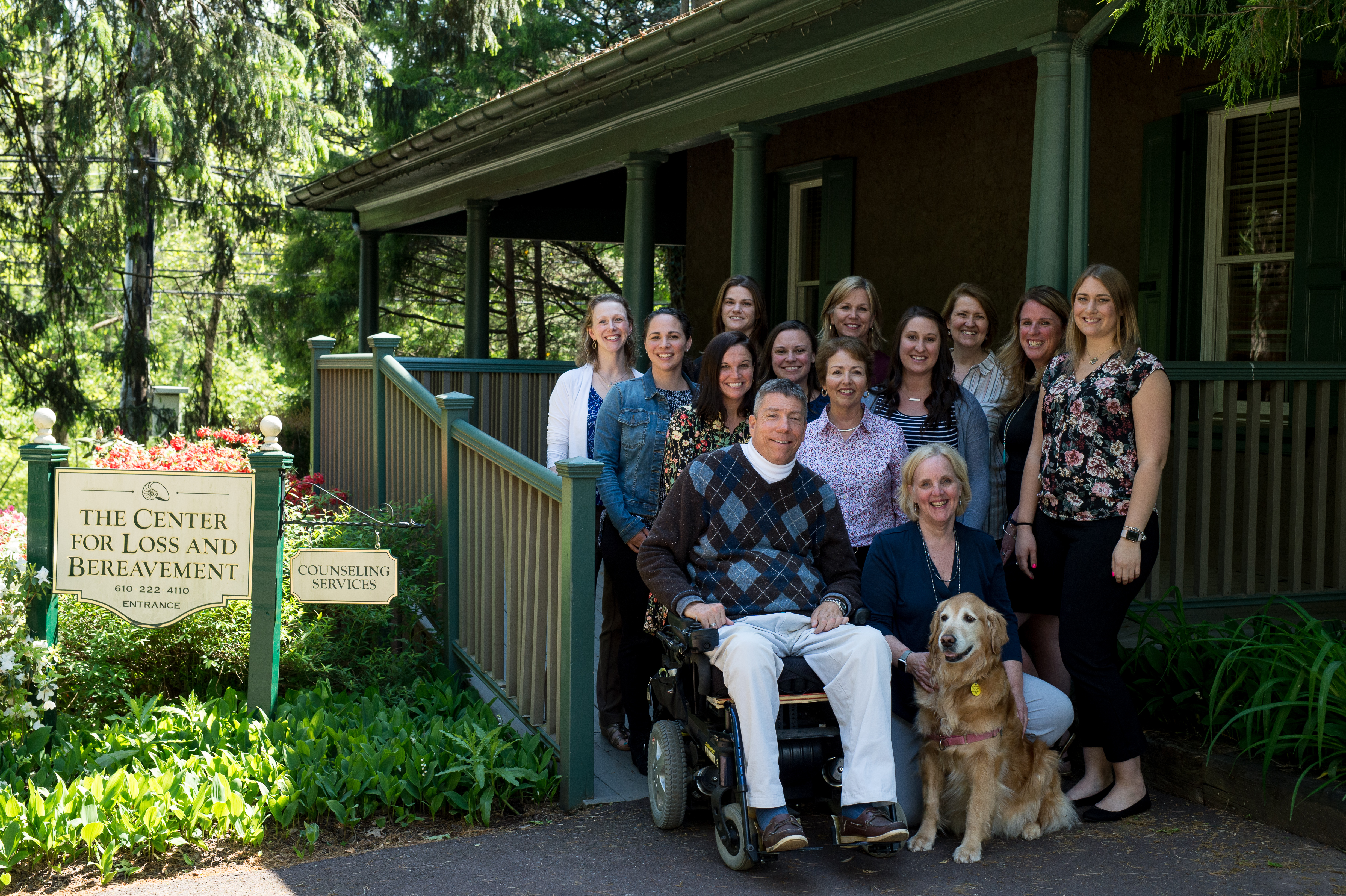 Emily Cauchon
Adult Group Coordinator, Therapist
Phone Extension: 125
elc@bereavementcenter.org
Tammy Court-Cudd
Therapist, Group Facilitator
Phone Extension: 108
tlc@bereavementcenter.org
Audrey Ditzler
Development and Operations Director
Phone Extension: 103
aditzler@bereavementcenter.org
Claire Drexler
Therapist, Clinical Supervisor
Phone Extension: 104
csd@bereavementcenter.org
Shirley Elrod
Therapist, Clinical Supervisor
Phone Extension: 107
sje@bereavementcenter.org
Hannah Feehery
Intake Coordinator, Therapist, Group Facilitator
Phone Extension: 127
hnf@bereavementcenter.org
Lois Harris
Group Program Director, Group Facilitator
Phone Extension: 118
lh@bereavementcenter.org
Ashley Herr 
Education and Outreach Director
Therapist, Group Facilitator
Phone Extension: 123
amh@bereavementcenter.org
Pat Keeney
Group Facilitator
Phone Extension: 120
pak@bereavementcenter.org
Steve Keller
Therapist, Grief Notes Contributor
Phone Extension: 105
sk@bereavementcenter.org
Christina Larkin
Youth & Family Group Coordinator, Group Facilitator
Phone Extension: 119
cml@bereavementcenter.org
Jamie Lockwood
Volunteer and Event Coordinator, Group Facilitator
Phone Extension: 124
jl@bereavementcenter.org
Brian McCaffrey
Therapist, Group Facilitator
Phone Extension: 106
bfm@bereavementcenter.org
Shelley Robbins
Group Facilitator
Phone Extension: 117
snr@bereavementcenter.org
Kendra Stenack 
Clinical Director, Therapist
Phone Extension: 101
kns@bereavementcenter.org
Emily Vincent
Executive Director, Therapist
Phone Extension: 102
emv@bereavementcenter.org
Gracie
Therapy Dog