Donate
Through Our Website   •   Via The United Way of Greater Philadelphia and Southern NJ (Donor Number #16403)   •   Or help us by shopping at Amazon.com

Information on our 3rd Annual
Strides of Hope 5k Walk/Run coming soon!
Join us for our third annual Strides of Hope 5k, helping to raise support and awareness to benefit the Center and the community we serve!  Become one of our esteemed sponsors or volunteers, create a team in memory or honor of someone, or register to join the many walkers and runners who find meaning on this inspiring trail. 
Thank you to everyone who participated, volunteered, sponsored, and donated to the Strides of Hope 5K on November 6, 2021! 
Check out some highlights from November 6, 2021:
---
TEAMS: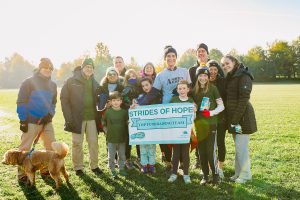 Asher's Army
Burian Believers
The Dancing Queens
Ramble On Reese
Doing it for Dude
Milestone
Jun's Legacy Squad
Porreca Posse
INDIVIDUALS: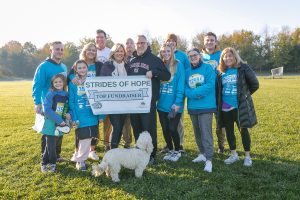 Kim Burian
Megan Brody
Steven Brody
Rita Porreca
Nancy Petrone
Alex Piergallini
Audrey Ditzler
Benjamin Jackson
Joshua Goldwert
Kimberlee Beam
---
OVERALL TOP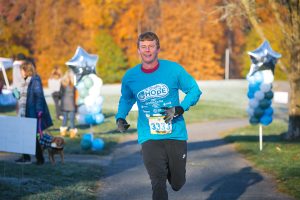 Dan Dingman 20:52
Jen Gross 23:02
Under 18 Age Group
Lucy Henzler
Elizabeth Steiner
Graham Smith
18-29 Age Group
Mel Burian
Andy Burian
30-39 Age Group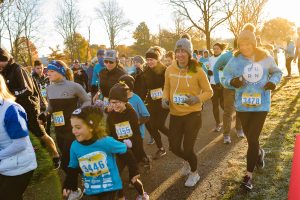 Shannon Dingman
Michael Zabrodski
40-49 Age Group
Kim Lewullis
David Milunic
50-65  Age Group
Jennifer Romano
Michael Porreca
65+ Age Group
Jeffrey Ledbetter
---
Brought to you by:
---
Thank you to the following donors who helped make our event a success:
Robert Abbonizio
Geoff Adams
Lloyd Adams
Amanda Albin
Christine Alden
Anna and George Allen
Deborah Allen
Victoria Alpha
June Arnoldy
Colleen Bannon
Marijane Barbone
Laura Bauernschmidt
Heather Beam
Jim and Kimberlee Beam
Kristin Beam
Lorie Benning
James Benstead
Kristi Bertzos
Diane Bode
Morgan Bonito
Bridget Bowman
Jason Bowman
Jeremy, April & Vivian Bowman
Jane Bridge
Eric Brody
Karen and Steven Brody
Megan Brody
Steven Brody
Kim Brotschol
John Buck
Tara Buck
Christopher Burian
Kimberly Burian
Melanie Burian
Paul Burian
Robert Burian
Kristin Burke
Vicky Carr
Sheila Casey
Jennifer Cherry
James Chubb
Megan Clements
Nicole Cohen
Randi Collinson
Cara Conwell
Melanie Cotter
Veronica Davies
Ashley Davis
Michelle DeCaro
Susan Delaney
DeNero Alexandra
Andrea Dichter
Dorrie Dillalogue
Shannon Dingman
Audrey Ditzler
Lori Driscoll
Tara Dubois
Suzanne Duckett
Ilissa Ducoat
Colleen Duffy
Eleni Egras
Raymond Elberson
SARAH ELBERSON
Brad and Shirley Elrod
Maria Evelyn Esteban
Alyssa Ethridge
Kathleen Everlof
Melinda Faison
Zakarewicz Family
Darcy Fedorko
NATHAN FELDMAN
Mary Kate Fenstermacher
Diana Fey
Christine Fitzgerald
Raymond Fitzgerald
Judith FitzPatrick
Heidi, Ian, Tulla, and Fletcher Flanagan
Joshua Flynn
Kristen Foering
Nancy Gallagher
Tyler Garcia
Joslyn Giannini
Heather Gille
Laura Giltzow
Emily Glass
Brandon Goodwin
Gary Griscom
Elizabeth & Scott Haber
Therese Hagelin
Lauren Hales
Rich Hansell
Debbie Hanson
Ann L Harris
Steve Heinen
Allyson & Tim Henkel
Brendan Higgins
Ryan Hluschak
Colleen Hopkins
Hameeda Hudachek
Kim Hudak
Elizabeth Humes
Lorina Hunsberger
Amanda Hunt
Crystal Hunter
Jeffrey Hurrie
James Ingoldsby
Anna Kasko
Suzanne Kearney
Thomas Keenan
Charles Kegerreis
Brent Kenneway
Allison Kerlin
Erin Keysock
Stefanie Keyte
Margo, Brian, Luke and Noah Kiefer
Johnny King-Marino
Joanne Kline
Pam and Kevin Krause
Tina and Paul Krause
Lauren Krauss
Shanu Kurd
Kate Kushner
Moira Lafferty
Melanie Lange
KyungMi Lee
Gary Leggett
Kay Leggett
Shelley Leonard
Terri and Ken Lepitre
Judy Leslie
Jamie Lockwood
Bradley Lukach
Amparito Mamuad
Julie Mancini
Renee Mangano
Ann Maniscalco
Nancy Maniscalco
Wilkinson Marci
Vanessa Martinez-Kearns
Debbie McArthur
Laurie Mcgettigan
Peg McKelvey
Cara Mehne
Anik Merchea
Janice Merkel
Kara, Curt and Avery Miller
Joanne Miosi
Timothy Mitchell
Kathy and Ben Montgomery
Mary Lynn Morasco
Jennifer Motsney
Mary Beth Moyer
Mike Mroczka
Moiya Murphy
Phillip Natalini
Kara Newman
Teri Lynn & Paul Nunnari
Rachael Nuwash
Megan O'Donnell
Regina O'Donnell
Anya O'Malley
Barbara Ost
Jason Pabon
Hannah Palmer
Michelle Paone
Jeetu Patel
Jean Perchalski
Donna Piergallini
Kristen Pollack
Joseph Ward and Rita Porreca
Ali Price
Thomas Quigley
Ashok Raman
Elizabeth Reed
William Reichert
Johanna Reighard
Ethel and Gary Richards
Catherine Riker
JENNIFER ROMANO
Colleen Rosenblum
Donna Royer
Alyssa Ruggieri
Aimee Ruhl
David Ryan
Aimee Sala
Jim Sandmann
Lisa Scaduto
Jennifer Schwartz
Nikki Scott
Melissa Shaw
Lisa Shea
Amy Shermeyer
Kristin Sickeler
Ali Sisbarro
Andrew Smith
Christopher Smith
JEAN Smith
Christine Stafford
Ann Stapinski
Robert Steinberg
Christine Steiner
Kendra Stenack
Rebecca Stern
Cameron Stewart
Elizabeth Stone
Marks Susan
Jacqueline Swanson
David Thompson
Scott Tomes
Megan Tomko
Cheryl Tourish
Doug Traher
James Traher
Emily and Steve Vincent
Carrie Weidman
Marcella Wickham
Kathleen Wilhide
Kelly Williams
Claudine Wolk
Worth Wollpert
Sarah Wright
Liana Yoo
Julia Yunaska
Custom Ink LLC
For highlights on the 2020 event, please click HERE