Donate
Through Our Website   •   Via The United Way of Greater Philadelphia and Southern NJ (Donor Number #16403)   •   Or help us by shopping at Amazon.com
Camp Millie
The Center is in the process of planning for Camp Millie 2021 – Trailblazers! We are hopeful that the program can be held in-person for June 21, 22, 23, 24 at our Camp location in Lansdale with limited enrollment. Our staff is monitoring the ever-evolving health situation. If determined to be a risk, we will hold a virtual camp on a modified and shortened schedule.
Please check back here for updated details such as times, fees, requirements, what to bring, and more. In the meanwhile, if you would like to register, please be in touch with the Program Director, Lois at 610-222-4110, ext. 118 or lh@bereavementcenter.org and she will provide the link to our Registration Form. Priority is given to first-time campers.
---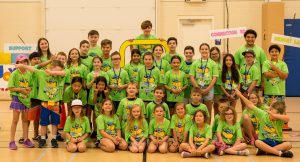 A place where kids who have experienced the death of an immediate family member can gather for some summer friendship, sharing and fun!
At Camp Millie, grieving children have the unique opportunity to connect with peers who are coping with the death of a parent or sibling. It is this particular bond that transforms the usual summer camp experience into one which offers hope and growth in a supportive, caring environment. Adult Buddies guide campers through discussions, games and crafts which are designed to explore their varied feelings of grief. Exciting themes such as Beach Blast, Road Trip Adventures, and Trailblazers set the tone for a fast-paced, fun-filled half-day camp program. New friends, lasting memories and supportive ideas can be found at Camp Millie!
This program is offered each summer, Monday through Thursday during the last week of June. The camp is held at the Central Community Center, located at 2067 Steelman Rd, Lansdale, minutes away from the Center. Camp Millie is coordinated by the professional staff of the Center and specially trained volunteers. It is open to children, ages 6 -14, who commit to the entire four days of camp.

---
Fun with Camp Millie!