Donate
Through Our Website   •   Via The United Way of Greater Philadelphia and Southern NJ (Donor Number #16403)   •   Or help us by shopping at Amazon.com
Our Staff
---
Shirley Elrod, Therapist
Shirley Elrod is licensed in Pennsylvania as a Marriage and Family Therapist (LMFT) and has worked extensively in the death, dying and bereavement field since the 1990s. She first received her Bachelor's degree in Family and Community Development from the University of Maryland, then went on to earn her Master's degree in Clinical Counseling, with a specialization in Marriage and Family Therapy, from LaSalle University, PA.
Shirley is certified as a Fellow in Thanatology, Death, Dying and Bereavement (FT) from the Association of Death Education and Counseling (ADEC). She has attended and received credit for countless continuing education opportunities over the past three decades, believing firmly that ongoing education is paramount to remaining current and professional within the bereavement field.
Shirley is co-founder of The Center for Loss and Bereavement, along with her colleague, Christine Smith.  The two of them opened The Center in 2000 with a small counseling and children's support group program.  Since then, together they have been invested in developing and growing The Center, helping to transition the daily leadership to Emily Vincent (current Executive Director), but remaining dedicated and involved as advisors.  Shirley has worn many hats over the years, most specifically Clinical Director and Executive Director.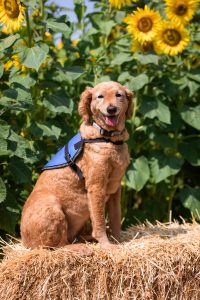 At this time, Shirley is involved in supervising interns as they complete their counseling programs and is providing counseling in person as well as virtually to clients on a part time basis.  She has also been involved with therapy dog work. Her first therapy dog (Clara) was privileged to be the first therapy dog at The Center! After Clara's death, Shirley earned therapy dog certification for her second therapy dog (Sadie) who can be seen "helping" in our various programs such as Nello's Corner and Camp Millie. Sadie is available for counseling sessions with Shirley as well.
From an early age, Shirley has been aware that none of us can go through life without loss and grief. She knows that with care and support, people can find their way through all the challenging emotions and life changes grief brings.  She feels honored to walk alongside those who are bereaved, creating sacred space, gaining insight, building hope and taping into resilience so each person can find new ways to live.
If you would like to set up an appointment with Shirley, please contact Hannah Feehery, our intake coordinator, at 610-222-4110 ext. 127.